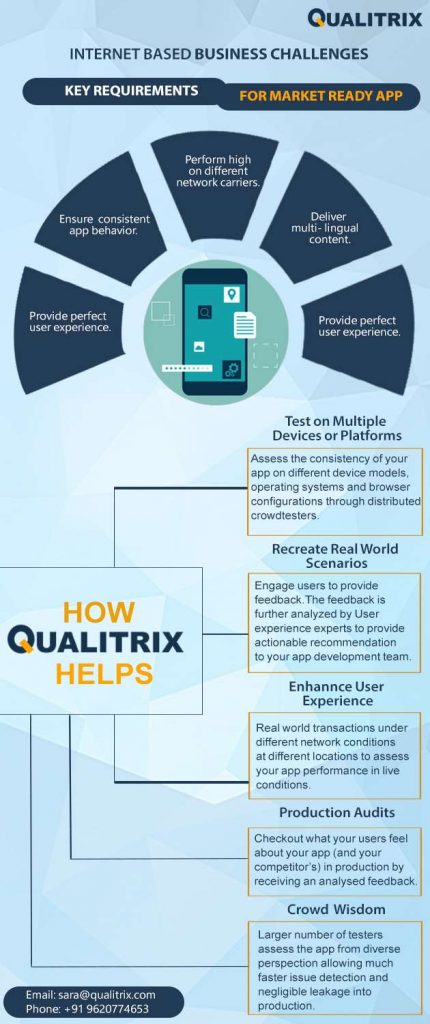 An internet application gets tagged along with the various challenges, to meet the needs during its development and fulfil the different demands required for sustaining itself on the web.
Qualitrix has the solution to the requirements mentioned above for a Market Ready Application – one that meets the Internet-based business challenges.
A Mobile App is Market-Ready When It Fulfills the Following Requirements
Providing perfect user experience

Ensuring consistency in the application's behaviour

Performing high on different network carriers

Delivering multilingual content

Providing perfect user-experience
Test on Multiple Devices or Platforms
Assess the consistency of your application on different device models, operating systems and browser configurations through distributed crowd testers.
Recreate Real World Scenarios
Engage users to provide feedback. The feedback is further analyzed by User experience experts to provide actionable recommendation to your app development team.
Enhance User Experience
Real-world transactions under different network conditions at various locations to assess your app performance in live conditions
Production Audits
Check out what your users feel about your app (and your competitor's) in production by receiving analysed feedback.
Crowd Wisdom
Larger number of testers assess the app from a diverse perspective, allowing much faster issue detection and negligible leakage into production.
Hear what Mayank Mittal, Managing Director, Qualitrix has to say on the market ready mobile application.