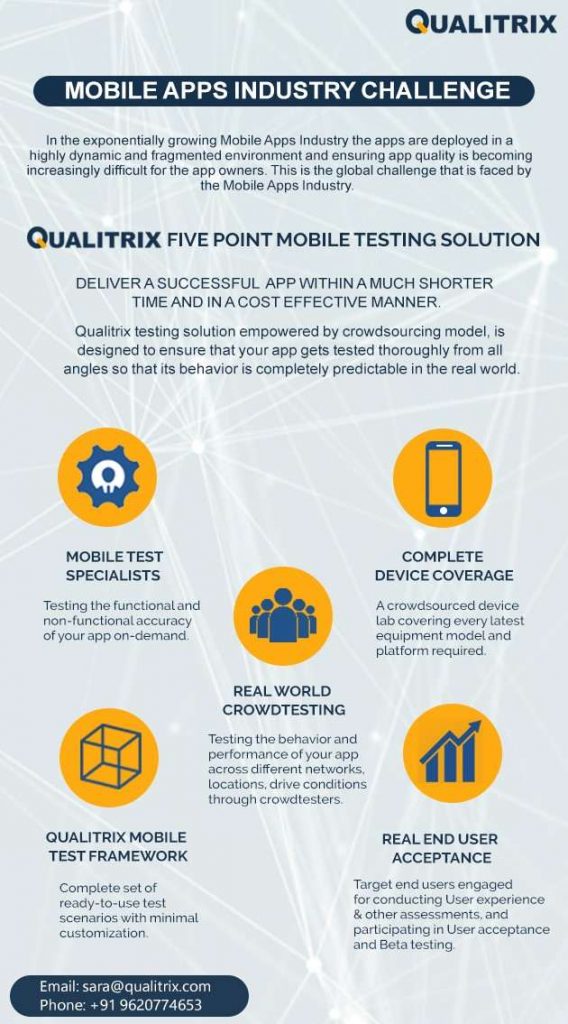 CHALLENGES FACED BY THE MOBILE APPS INDUSTRY
The Mobile Apps industry is growing exponentially, in which the apps are deployed in a highly dynamic and fragmented environment. With the dynamism and quality expected to meet the industry demands, ensuring quality is becoming increasingly difficult for the app owners. This is a global challenge that is faced by the Mobile Apps Industry.
Qualitrix Five Points Testing Solution
The Five Points Testing Solution proposes to deliver a successful app within a much shorter time and in a cost-effective manner.
To meet the industry demands, Qualitrix's testing solution empowered by crowdsourcing model is designed to ensure that your app gets tested thoroughly from all angles so that its behaviour is entirely predictable in the real world.
Mobile Test Specialists

Testing the functional and non-functional accuracy of your app on-demand.

Complete Device Coverage

A crowdsourced device lab covering every latest equipment model and platform required.

Real World Crowdtesting

Testing the behaviour and performance of your app across different network locations, drive conditions through crowd testers.

Qualitrix Mobile Test framework

Complete set of ready-to-use test scenarios with minimal customization.

Real End User Acceptance

Target end-users engaged in conducting User experience and other assessments and participating in User acceptance and Beta testing.