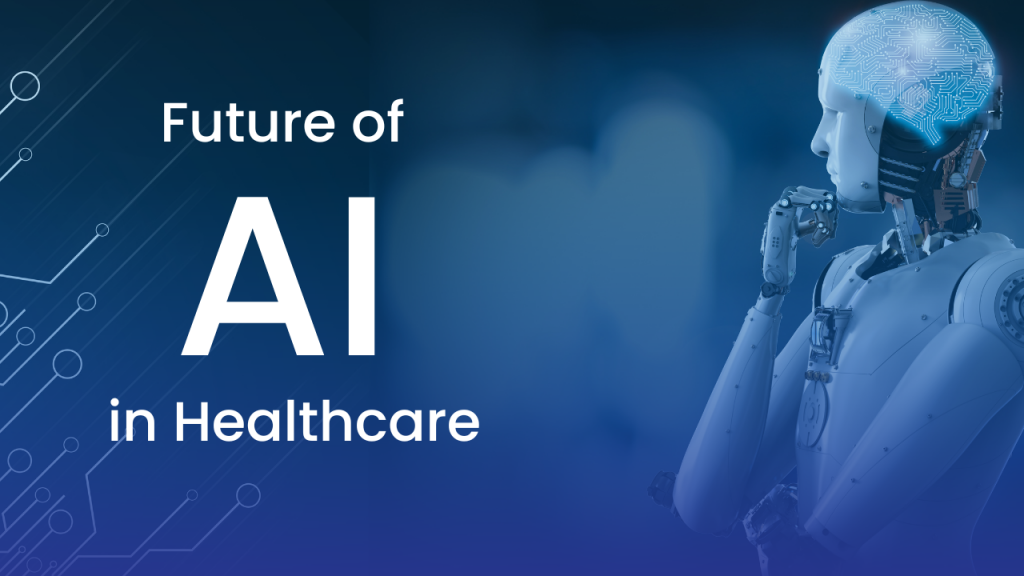 Advancement in the field of healthcare is bolstered by growth in new technologies that help pave the way to seamless availability of medical assistance and patient wellness. With the increase in global population, it has become even more challenging, yet vital for governments and care providers to ensure accurate and high quality medical support is available to people living even in the remotest of locations.
Artificial Intelligence and associated technologies support progress in the healthcare sector and has become a vital part several care facilities. A Markets and Markets report dated January 2023 on Artificial Intelligence in Healthcare Market states that the net value is estimated to go up from USD 14.3 billion in 2023 to USD 102.7 billion in 2028, growing at a CAGR of 47.6%.
Role of AI in the healthcare sector
Artificial Intelligence plays a significant role in data analytics in the healthcare sector. The large amount of patient data generated during medical diagnosis is fed into AI systems, that are programmed via algorithms to develop patterns. As the system reads the data, it creates or recognizes patterns from those already existing in the database and develops insight to support the diagnosis of the patient. The biggest advantage of incorporating AI into such systems is its ability to handle big data and come up with insight with high accuracy in a short time, greatly reducing the manual effort required to be expended.
AI applications in healthcare also help analyze the relationships between the clinical techniques used and its outcome and effect on the patient's recovery status. In addition to diagnostics, AI is also useful in several other fields like in drug development, treatment protocol development, and patient monitoring. From advanced medical diagnostics and care performed by healthcare professionals to smartphone based health monitoring applications, wearable devices and other internet based systems, AI applications are used widely.
Due to its abilities of data and visual pattern recognition, Artificial Intelligence based software is used successfully in the fields of cardiology, dermatology, pathology, oncology, ophthalmology, and more.
How is AI enabling delivery of better healthcare?
The integration of AI in healthcare comes in with a host of advantages –
Data driven decisions for simpler healthcare

: AI based applications analyze large amounts of data pretty efficiently in a short span of time. The insights delivered support doctors and other healthcare providers take diagnostic and treatment related decisions quicker. This is also a critical advantage for supporting fast paced patient care in cases where doctors are required to provide decisions to enable life saving treatment quickly.

Cost reduction:

 With streamlining of routine and administrative processes, AI helps save on cost as well as reduce errors.

Diagnostic accuracy:

 Advanced healthcare AI and robotics applications can offer diagnostic insights at par with human decisions, hence allowing doctors to bank on reliability.

Support primary medical care:

 Remote healthcare systems supported by chatbots support the medical care of millions of people across the world today, helping connect patients with expert doctors. These AI and robotics based systems not only help save on the large costs incurred on transport and administrative expenses while the patient reaches the doctor in a traditional manner, but also saves time enabling patients to start treatment quicker.
Importance of AI testing in healthcare
The delivery of medical care demands high quality and accuracy with zero chances for error. Hastily built or faulty AI based applications that have a chance to showcase wrong insights put human life at stake.
Quality testing of AI based healthcare applications is critical to enable medical professionals to deliver premium care to all patients. QA of AI based devices and applications takes longer than average, mostly due to the stringent quality and functionality checks. AI testing for QA for such applications and devices greatly helps build on accuracy and faster analysis of data derived from the large number of test cases used.
In application and software quality assessment, AI testing helps improve upon agility by learning from test data through pattern generation and recognizing changes in the system and adapting quickly so that test failure does not happen. This is also related to self healing capacity of AI testing systems wherein rapid changes are recognized and accepted automatically. Finally, AI testing in healthcare for medical devices and application allows for reduced testing costs and manual labor investment.
Building AI based healthcare application and software requires rigorous testing with a skilled team of QA experts to ensure delivery of highest quality. Comprised of a team of experienced quality testers with years of experience, Qualitrix can help you test your healthcare application and support your business growth. To know more about AI based testing for applications and software, reach out to us at – sara@qualitrix.com