Delivering Quality Apps in media and entertainment industry is a challenge due to a large number of apps and high volume of content being released on a tight budget and schedule.
What is the price of your (bad) reputation?
The other day I was speaking with George, a product owner at one of the largest Australian media houses. We were discussing the quality, or rather lack of it, in the majority of web and mobile apps in Media and Entertainment (M& E) industry.
I was trying to understand why such large multi-billion dollar M& E firms, so high on creativity and marketing spend, have web and mobile apps that often look so amateurish.
Today, every new movie or TV serial get its own website and app which are used for both promotions as well as ongoing engagement. Many of these websites and apps also bring in merchandising revenue.
While the volume of products has gone up significantly in the last few years, the same cannot be said about their quality.
There are easily noticeable issues like misplaced buttons, broken links, and content errors.
The overall look and feel seems outdated and not user-friendly at all. Many of these applications have severe functional issues as well.
"Don't you feel this affects your company's brand image, George?" I asked.
George replied to me saying most of the product owners like him were aware of the situation, but they were operating under strict budget and time constraints. They have to release an update so many different apps on a regular basis as well as produce a large amount of content which has to work on so many different devices and channels.
The scale makes it very difficult to test and validate everything. His final words, "Mayank, After all, we are not dealing with someone's life or money, this is just news and entertainment!"
I could not disagree more with George. Often times, I have come across leaders in large firms that have a similar mindset. You will not find this thought in a budding entrepreneur who is crazy about the quality of her product that could help attract more consumers.
However, with large firms, and even more so in industries like Media and Entertainment where the product does not impact a user's life or pocket, compromising on the quality has become a common practice, without the realization that the consumer world is changing fast.
Today, your business completely hinges on providing a good user experience across all channels, be it online or offline.
Quality issues not only push your target consumers away but also create negative word-of-mouth on social platforms causing serious problems for your business, no matter how large and established a firm you might be.
Delivering a seamless user experience and an immersive content should be the two key intents of any Media & Entertainment product.
I do empathize with George when he says that it is difficult to control quality with multiple products and high content volume that needs to be released under heavy time and cost pressure. But I do not agree that this gives him the liberty to take his consumers for granted by releasing a low-quality product to the market.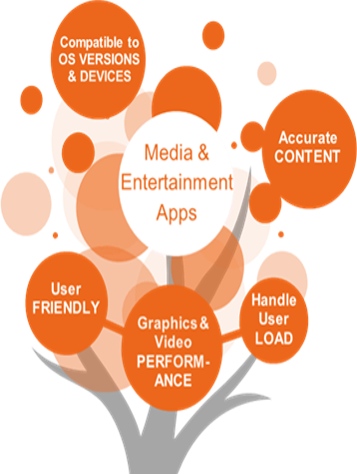 Key Focus Areas
Product Owner Quality Assurance Checklist
To every product owner at a media and entertainment firm, I suggest a five-point checklist that you should follow every time you release a new or enhanced version to the market:
Is your product behaving consistently on common market devices, screen sizes, and operating systems?
Is your content correct and relevant for all the targeted languages?
Do the graphics and videos load appropriately on common network carriers and bandwidths?
Can your product handle the expected peak load traffic?
Is your product user-friendly and likable to your target consumer?
If the answer to any of the above questions is "No" or "I don't know", then you as a product owner need to take a second look at your product quality before releasing it to the market.
Let me also address the two other important questions that George raised
How can you test and validate your products on all these fronts at a low cost
I have been encountering this challenge for many years, even while I worked with some of the largest IT Quality Assurance (QA) and Software Testing organizations in the world.
I was eventually able to find the solution to this problem in a simple yet unique solution – The Managed Crowdsourced Testing Model.
Managed Crowdsourced Testing Model
In the managed crowd testing model, you can get your product tested in real-world conditions by a large number of testers and real users distributed across your target market.
Within a few hours, you get the functional, usability, performance and content-related issues identified for your product across multiple languages, networks and target demographic.
Qualitrix, one of the fastest growing crowdsourced testing firms, offers managed crowdsourced testing solutions to some of the largest media and entertainment firms in Australia, US, and India.
Taking the managed crowdsourcing solution one step further, they conduct both structured and exploratory tests on the products to ensure complete coverage of your products as per your requirement.
Here are the five key benefits of implementing a managed crowdsourced testing model for your products:
Coverage to all common and new market device models, OS and configurations
Recreation of real-world scenarios
Localized content validation
Crowd Wisdom: more eyeballs -> quicker issue detection -> no leakage to production
Real end-user feedback on product usability
The model covers all the points from the quality checklist within hours and at a 30-50% lower cost compared to the conventional models. It is easy to adapt and fully integrates with your product development lifecycle.
Most importantly, it is highly scalable and allows you to plan multiple product releases in parallel with a very short turn-around time.
About the Author:
Mayank Mittal is a QA industry leader having more than a decade of experience with some of the largest Testing firms across the globe. He has been involved in consulting and transformation of QA and Testing organizations for many large customer organizations across different industry verticals including Financial Services, Media & Entertainment, e-Commerce, Telecom, Travel, Education, and Start-Ups.
Mayank is currently the CEO and Managing Director of Qualitrix – a crowdsourced testing and market acceptance firm
Connect with Qualitrix experts to learn how you can improve the quality of your web and mobile apps.
Write to the Author: Email : Mayank@qualitrix.com